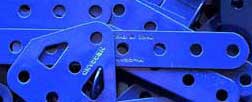 These are all models I have built using the parts of a circa 1930 red and Green No.7 outfit built up from individual parts collected by the original owner during the nineteen thirties. I was lucky enough to purchase this on a visit to Canada in 2016 after being contacted by the then current owner though my website.
Click on the images or captions below to find out about these historic models and information about the first red and green Meccano 1927-1934.
There is now a NEW page about the development and history of the original red and green Meccano click on this link.