This gallery has over one hundred and fifty models that I have built over the past few years plus some from other builders who have built their own versions of my models. My choice of models is rather eclectic as is the choice of Meccano colours used. My own philosophy is to use only parts in the Meccano system from any period from 1900's to the present day although I must admit to occasionally alter parts and use a few parts from compatible systems.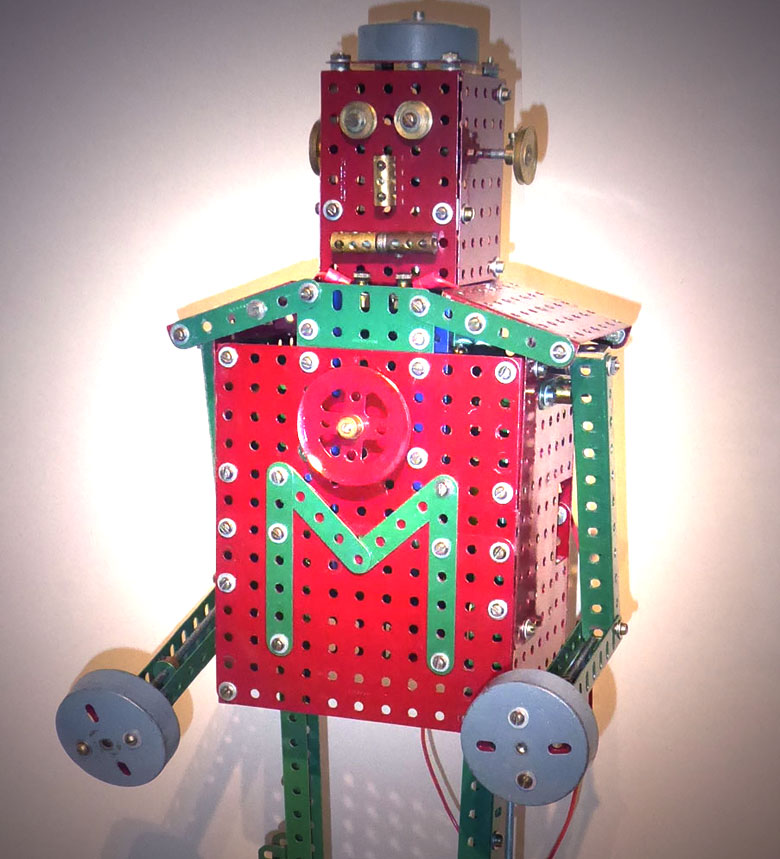 Most pages uploaded since September 2016 have a zoom feature to enlarge the pictures.Just click over the image and you will see it enlarged.
Click the captions or images on the left to take you to an index page of the model categories or click on the latest model links below.
1931 Robot November 23 2021
1937 Bluebird Speed Car September 20 2021
Revised Stiff Leg Derrick Crane SML6a Steam powered September 20 2021
1950's Lambretta Motor Scooter June 28 2021
1970's Style Agricultural Tractor Revised May 26 2021
Army Multikit Half track truck and field gun May 18 2021
Travelling Gantry Crane April 10 2021
Fishing Trawler March 23 2021
Caledonian 2-2-2 Locomotive and tender February 28 2021
Water Mill December 02 2020
1911 Drilling Machine October 12 2020
Model of the Month Block Setting Crane October 05 2020
Block Setting Crane July 07 2020
Tipping Motocart July 04 2020
Mechanical hammer & Warship added to Vintage Special Edition Set April 13 2020
Midland 4-2-2 Locomotive and Tender March 30 2020
New model added to Aero Constructor page February 09 2020
Planing Machine February 07 2020
Vertical Milling Machine January 17 2020
Planing Machine above from the pre-war Super Model Leaflet 17
Your questions about my models are always welcome click the link below

Page created November 21 2012 Revised January 06 2022 (WIN10)