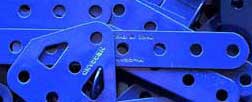 This is a selection of model trucks, lorries and other commercial vehicles built from a range of Meccano colours. Click on the image or caption below and go to the page about the model showing larger pictures, information about its construction and origins.
---
Page created November 19, 2012 Revised June 30 2021 (WIN10)
Back to the Gallery of Meccano Models.