This very much a traditional Meccano model with lots of constructional parts The model uses mainly common parts which appealed to me, although some are used in considerable quantities. I used a mixture of zinc, dark blue mid blue and 1970's yellow plus more modern French yellow taking care not to use the colours randomly. It was great fun to build and production line methods could be applied.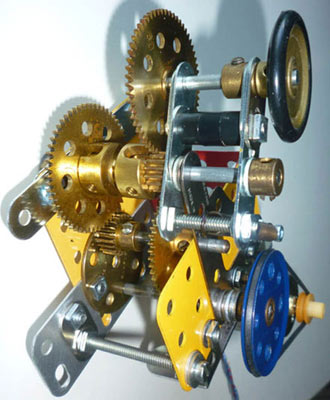 The drive unit shown above has a sprung loaded 1" pulley that pushes against a 6" pulley the unit fits between the side members of the "A" frame. The motor is a small ex VCR or cassette player motor not sure which, it drives the model well on just 5 volts. The bearings are made up from pairs of bush wheels. This was only the second time I have ever used a 6" pulley. This particular one came from my 1973 number ten set and was still attached to the stringing card! When the drive is disengaged the wheel spins with just a touch, so needs very little power to keep it turning. Great care needed to be taken to make sure the wheel was completely balanced.
Shown on the left is the completed "A" frame, just the Meccano sign is missing
I am indebted to Rob for his excellent instructions and the advice he gave me during my building of this model.
October 01 2015 revised October 02 2015